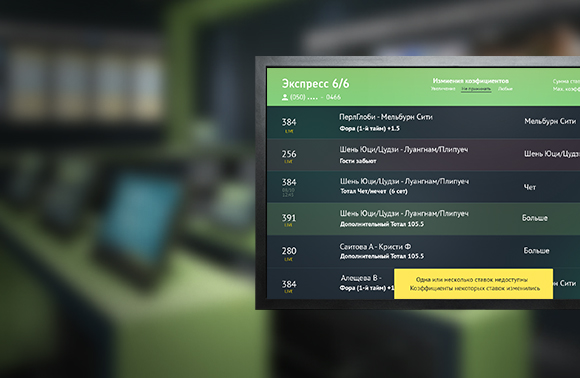 Added 21 June 2017
Rub90 introduces responsive display - function, which allows players feel maximum comfort, because now they can control cashier's work and thereby exclude mistakes during the entering bet process. This solution is another step to player's comfort improvement.
Responsive display located at the cashdesk and faced towards player allows observing the whole process of entering bet in real time. This lets eliminate risks connected with cashier's mistake, display the whole betting process and provide maximum control capabilities for player.
Player can observe the following operations on the responsive display:
stakes adding / editing / removing;

odds changing;

selected events availability update;

bet sum entering by the cashier;

stake processing after placing bet;

bet processing result (accepted / not accepted).
Responsive display introduction also offers new opportunity to a player: instant tracking of bet status and events in it on the display using bar code or betslip number. There's no more need to wait for the cashier to get necessary information, possibility of improper data interpretation by the cashier is also eliminated.
The new solution is one more step towards players who react negatively on the mistakes while playing. They get opportunity to control their bets status. Advantages of responsive displays enumerated above will become strong contribution into the work on customer loyalty.
If you have any questions, feel free to contact our technical support or partner department managers.
With respect to the betting business, Rub90 Company.