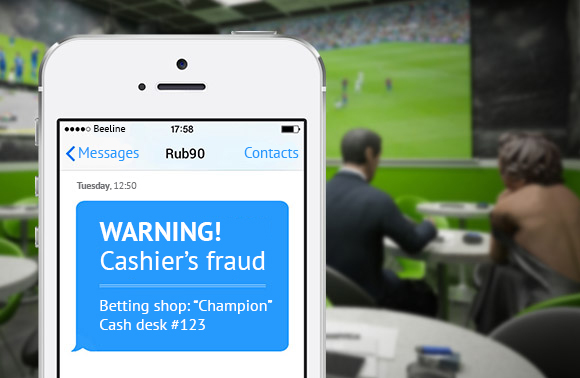 Added 21 June 2017
All bookmakers sooner or later face the problem of cashier's fraud. Often cashier cannot resist the temptation of "easy" money and tries to bet. Pretty fast this results into the fact that cashier begins to lose and register new bets in a system without adding money to a cash desk.
Formed shortage cashier can't cover, so he tries to win back, again and again betting with all larger amounts.
In fact cash desk is not replenished, while in the system of betting shop income is growing rapidly, which is certainly is extremely unprofitable for the bookie.
Would you like to protect your business from fraud cashiers?
Rub90 offers an effective solution to fight with cashier's fraud. We have conducted a comprehensive analysis of the problem. During the research we identified a pattern of behavior of a cashier's fraud, occurring in more than 90% of cases.
The system detects suspicious activity in cash desk and reports of it an administrator or owner of a betting shop. Moreover, according to your desire, limits on bets will be automatically reduced, making further bets unprofitable for cashier. Duration and value of reduced limits are determined by bookmaker himself for the entire network of betting shops, for every cash desk in a particular betting shop or for any separate cash desk.
Thus, you receive a notification about the numerous unusually high bets as for a specific betting shop within a certain period. Perhaps there is indeed big fair game going on, and the cashier is acting faithfully - anyway, you are always aware of what is happening and have the opportunity to understand the situation quickly.
Additional security
Rub90 platform provides protection against unauthorized pay offs. The cashier cannot seize someone else's prize, because pay offs occur only at presence of a coupon with barcode. Such coupons are only for players. So, bettor's prize will stay safe in betting shop until he comes to get it.
Thanks to SMS-notification, you are always aware of high bets at betting shop. You specify the sum of money above which all bets in betting shop will not pass without your awareness.
System of reports allows you to track cash flows in each cash desk, so you can control your employees.
With respect to the betting business, Rub90 Company